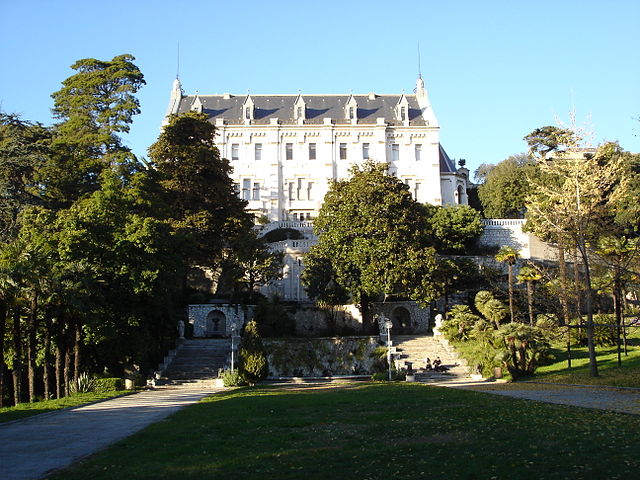 Chateau de Valrose
Photo Antonio Zugaldia
The Russian community left an important architectural heritage in Nice. The russian orthodox cathedral is the most visited monument in the city. Marc Chagall, a Jewish and Russian born artist benefits from a whole Museum which enables visitors to enjoy his paintings.
The history of this community began as early as the 19th century. Nice was not yet french and still belonged to the Kingdom of Naples. After it lost the Crimean war, Russia could not keep its war vessels in the Black Sea any longer. Still needing a naval base in the Mediterranean Sea, it made a deal with this kingdom to use the Villefranche sur Mer natural harbour for its fleet. Russians began to settle in the area and Russian officials too. When the region became French, the relations between France and Russia were much better and the Russian aristocracy stayed in Nice. Napoleon III had extended the authorization to use the Villefranche harbour. The Tzar Alexander II came several times in Nice.
Apart from the two orthodox churches built in Nice, several members of the imperial family built palaces or houses which still exist.
the russian orthodox cathedral, built next to the place where the Tzarevitch, son of Alexander II died.
the Longchamp street church
the "Lycée du Parc Impérial", now a high school, was actually the palace built to house the Imperial family (or other nobilities) when it stayed in Nice. It is built on an other part of the Bermond park surrounding the villa where the Tzarevitch died.
the Museum of fine arts is actually a villa which belonged to Lev Viktorovitch Kotchoubeï and his wife. She gave it to the city after her death.
the castle in the Science University of Valrose (see above) was built by a Russian businessman and Tzar's counsellor, the earl Von Derwies who made a fortune with railroads. The castle now houses the University management and the park, the university itself. There is also a small castle which was used for the guests and a real izba which was moved from Russia. If you speak French, read more here.
The Villa Georges (10 bvd Dubouchage) is the place where Katia, the morganatic wife of the Tzar Alexander II lived after her husband was killed and where she died. She is buried in the Caucade cimetery.
Soon, the need for a specific cimetery leaded to the creation of the Orthodox cimetery of Caucade (C), on a hill west of the city. Several members of famous russian families are buried here. The cimetery is only open on fridays and saturdays.
The Oasis Hotel, 23 rue Gounod (O) hosted two famous Russians : Lenine, and Tchekov who came several times.