Page 1 of 5
There are many ways to go to Nice.
By car
The A8 highway linking the Rhone valley to Genova in Italy goes to Nice. BEWARE, the speed limit is 110km/h or less on the highway everywhere in the Maritime Alps (from Mandelieu, West of Cannes to the italian border), instead of 130km/h usually in France. The speed limit is 90km/h on a large part of the Nice bypass.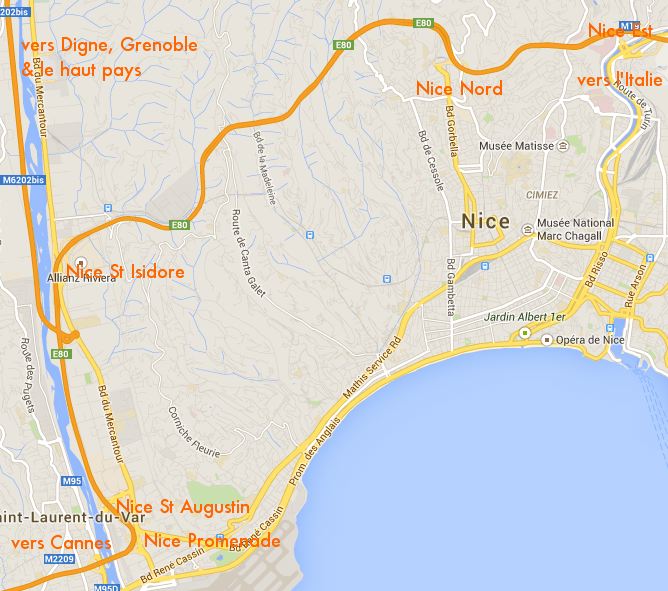 The highway exits

There are 5 exits in Nice. If you come from Cannes, you'll meet in order:
Nice Promenade (exit 50)
It enables you to go to the western part of Nice, to the seashore and to the urban freeway which crosses Nice from West to East, the "voie Mathis". Use it if you go to the city center , coming from the West.
Nice St Augustin (exit 51)
Located barely a few hundreds of meters after Nice-Promenade, you can use it to go the 202 road, no matter which way you want to use it, towards the sea or inland. Use it to go towards Digne or Grenoble,  the Vesubie, Tinee valleys... You can also use it to go to the 202 bis, a freeway which runs along the Var River to Carros. If you couldn't make the Promenade exit, you can also use it to go to the city center.
Nice St Isidore (exit 52)
Use this exit if you go to the stadium or the shopping center Lingostiere, or on the East bank of the Var river (Colomars...) Beware : Nice is one of the very few cities in France where the highway bypass has a toll. It is located in St Isidore. If you exit the highway here or go further, you'll have to pay. We advise you not to use this exit if you go to the city center.
Nice Nord (exit 54)
This exit is interesting if you go into the "hills", or towards Rimiez, Aspremont, St Blaise, and of course in the Northern areas of Nice. Not advised if you go downtown.
Nice Est (exit 55)
Enables you to go downtown along the Paillon river. This is the exit you'll want to use if you go to Nice coming from the East (Monaco, Menton, Italy...). This exit is the good one to go to St Andre, Levens, Contes, L'Escarène, la Trinité, le col de Turini... too.