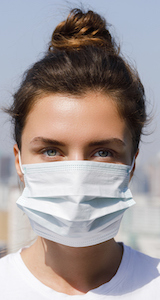 Last update : March the 19th.
We give you here news about the French and local regulations to enable you to decide whether it's worth planning a trip here soon, and will try to update this article regularly.
A local lockdown is now enforced in the Maritime Alps all week long, H24. A curfew is enforced every evening from 7pm to 6am is also enforced also decided.
During the curfew the reasons allowed to go out are restricted compaired to what is allowed during the day. (Doing sport outdoor for exemple is forbiden during the lockdown.) All restaurants and bars are closed.
The reason for these restrictions is the bad sanitary situation in the area, with a rate of spreading 3 times the national average. They will last at least until April the 16th.
The mayor of Nice explicitely asked tourists not to come on the Riviera now. He also blamed them for spreading the virus, which is not fair. The population in Nice which for a large part does not respect the sanitary precautions is responsible for the bad situation here much more than the tourists. But tourists don't vote for him.
To go out during the lockdown you must have a certificate saying why you do it. A limited number of reasons are allowed : buying food or other necessary goods, going to work, help a vulnerable person, comply with a judiciary summon, all kinds of medical emmergencies.... You can download the certificate in english from the official gouvernement's website here.
You must wear a face mask in all indoor public spaces : shops, museums, commercial malls, theaters, public transports, churches, restaurants and bars (any time you're not seated), administrations, post offices...
Masks must be worn in the streets, outdoor, everywhere in urban areas. Masks are therefore also mandatory in parks and on the hills around the city, on the beaches.
We remind you that the mask must cover the chin, the mouth and the nose to be efficient.
The usual restrictions still apply : stay 2 meters away from other people. If you can't, wear a mask. Wash your hands...
Cross borders travels are allowed depending where you come from. Controls are made. We advise you to check the regulation on the website of the French Ministry of Foreign Affairs. This page is available is several foreign languages, including German, Russian, Chinese...
Nice airport
The terminal 1 building will be closed until March 2021 at least, all flights departing and arriving in the terminal 2.